Crypto at a glance
It was another stop-start day for Bitcoin, as intriguing adoption news failed to drive the price higher. Meanwhile, a record-breaking day for Ethereum keeps the second-largest cryptocurrency in the spotlight today. Will July see it stay there?
The big story yesterday was that the family office of billionaire George Soros has started trading Bitcoin. The Street reported sources 'familiar with the matter' as saying that Dawn Fitzpatrick, the chief investment officer for Soros Fund Management, gave the green light to trade Bitcoin and possibly other cryptocurrencies in the last few weeks. The firm declined to comment.
Soros Fund Management has also reportedly been joined by Steve Cohen's Point72 Asset Management, which is supposedly looking to fill a new Head of Cryptocurrencies position. The recent drop in Bitcoin prices has been credited by some as the result of a slowdown in institutional investment in the space, but could the tide be turning again?
The news failed to do much for Bitcoin's price fortunes, however. The leading cryptocurrency continued to hover around the $35,000 mark yesterday, and has fallen to around $33,500 this morning as it remains in that narrow range.
It was better news elsewhere, though. Bitcoin may have outperformed other major cryptocurrencies in June, with a decline of just 2.7 per cent, over the month versus more than 15 per cent for others, but Ethereum is leading the charge into July. The second-largest cryptocurrency is up another 1.5 per cent again this morning to $2,160 after almost recovering to $2,300 yesterday. It even carved out a piece of history yesterday when it overtook bitcoin in daily active addresses for the first time. The number of daily active addresses exceeded 649,000, while bitcoin fell to around 580,000, according to analytics firm Santiment. A temporary blip, or a sign of things to come?
Would you like to help spread the adoption and education of Bitcoin in the UK and even stack some Sats while you're doing it? Well, now you can!
The Bitcoin Pioneers community, backed by Barry Silbert's Digital Currency Group, was created to introduce Bitcoin to a mainstream audience in a meaningful way and now has members right across the UK.
We share tips, stories and ideas on how to encourage others to try Bitcoin for the first time. And, thanks to support from Luno, each Pioneer gets £500 of Bitcoin a month to share with beginners, helping them get started.
So, if you're passionate about Bitcoin, why not join today? Click here to find out more!
All feedback on Crypto AM Daily in association with Luno is welcome via email to James.Bowater@cityam.com 🙏🏻
In the markets
The Bitcoin economy
*Definitions and insights can be found at https://bytetree.com/insights/
Total crypto market cap
The total capitalisation of the entire cryptocurrency market at time of writing is currently $1,394,906,123,373, down from $1,417,265,686,455 yesterday.
What Bitcoin did yesterday
We closed yesterday, June 30, 2021, at a price of $35,040.84, down from $35,867.78, the day before.
The daily high yesterday was $36,074.76 and the daily low was $34,086.15.
This time last year, the price of bitcoin closed the day at $9,228.33. In 2019, it closed at $10,583.13.
Bitcoin market capitalisation
Bitcoin's market capitalisation at time of writing is $631.4 billion down from $648.75 billion yesterday. To put it into context, the market cap of gold is $11.295 trillion and Facebook is $985.91 billion.
Bitcoin volume
The total spot trading volume reported by all exchanges over the last 24 hours was $34,853,515,347 down from $38,046,037,653 yesterday. High volumes can indicate that a significant price movement has stronger support and is more likely to be sustained.
Volatility
The price volatility of Bitcoin over the last 30 days is 79.97%.
Fear and Greed Index
Market sentiment today is 28.
Bitcoin's market dominance
Bitcoin's market dominance today is 45.89, Its lowest ever recorded dominance was 37.09 on January 8 2018.
Relative Strength Index (RSI)
The daily RSI is currently 44.55. Values of 70 or above indicate that an asset is becoming overbought and may be primed for a trend reversal or experience a correction in price – an RSI reading of 30 or below indicates an oversold or undervalued condition.
Convince your Nan: Soundbite of the day
"I'd met a woman that has a small pizza shop and she told me she has six children. Four of them have migrated to the U.S. Consistently, they were sending money back to her—this was before the project. She was regularly having to spend as much as a day taking a bus to the closest town that had an actual office or bank where she could collect the remittance, paying a huge fee to actually pick it up, and then leaving her business and leaving that income behind while she took the bus into town to get the remittance. She started using Bitcoin and she's been able to save so much that she actually started using it to send money to her child in the US rather than get money back. So that's just an example of the remittance question, the time that it takes to go and pick it up, the fees that are associated with it, and the problems that these organizers are trying to solve in using Bitcoin to make those transactions simpler."

– Ezra Fieser, Bloomberg reporter in Bogotá
What they said yesterday
Persuasive…
Everyone has their reasons…
Problems, problems…

Crypto AM editor's picks
Nukkleus acquires London based Match Financial
Binance given the boot by UK financial watchdog
Ripple outpacing Bitcoin among UK crypto investors
Cardano bridges the gap to China by teaming up with Nervos Blockchain
Crypto AM: Longer Reads
City AM Markets: What is Decentralised Finance (DeFi) by Aave
Crypto AM: Conversation with James Bowater
Crypto AM: Market View in association with Ziglu
Crypto AM: Technically Speaking
Crypto AM: A Trader's View with TMG
Crypto AM: Mixing in the Metaverse with Dr Chris Kacher
Crypto AM: Visions of the Future, Past & Present with Alex Lightman
Crypto AM: Talking Legal
Crypto AM: Spotlight
Crypto AM: Founders Series
Crypto AM: Industry Voices
Crypto AM: Tiptoe through the Crypto with Monty Munford
Crypto AM: Definitively DeFi
Crypto AM Parliamentary Special
Part one of two – April 2021
Part two of two – April 2021
Five-part series – March 2021
Part one…
Part two…
Part three…
Part four…
Part five…
Crypto AM Events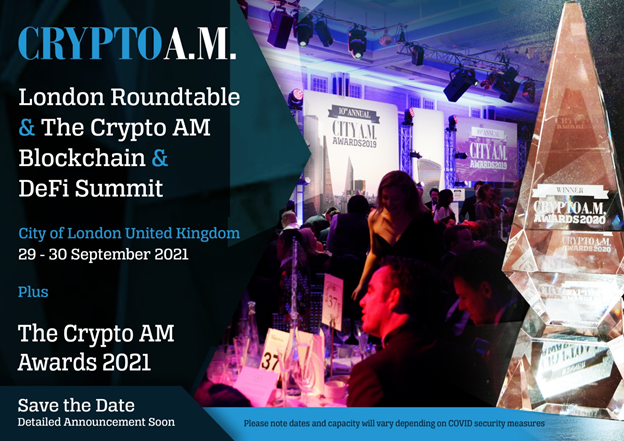 Cautionary Notes
It's definitely tempting to get swept up in the excitement, but please heed these words of caution: Do your own research, only invest what you can afford, and make good decisions. The indicators contained in this article will hopefully help in this. Remember though, the content of this article is for information purposes only and is not investment advice or any form of recommendation or invitation. City AM, Crypto AM and Luno always advise you to obtain your own independent financial advice before investing or trading in cryptocurrency.
All information is correct as of 08:30am GMT.