2022 is at an end. Many are looking forward to bidding goodbye to one of the worst years for the crypto industry. One of the highlights of this year is the growing distrust of centralized exchanges (CEX) following the collapse of FTX. Since the incident, major platforms have come forward with their Proof-of-Reserves (PoR) to regain public trust. However, not all have lived up to their word.
Known crypto proponent Nic Carter recently published a Medium blog outlining the current state of several crypto exchange's PoR. Carter points out that several platforms, including Kraken, BitMEX, OKX, and Binance, have published what they refer to as Proof of Reserves. However, these attestations do not all offer the same guarantees.
Carter points out that the exchanges together conducted Proofs of Reserve covering $33 billion of assets (about 4% of the overall market value for cryptocurrencies).
The only crypto companies undergoing PoR often are BitMEX and Deribit. They can do so because they don't rely on auditors to monitor their processes. Kraken uses an auditor for supervision, which results in a slower pace. Moreover, Kraken does not have any hidden liabilities. BitMEX and Deribit also permit outside parties to confirm their liabilities. Most exchanges let their customers independently verify if their obligations are included in the list.
As such, Kraken and BitMEX topped Carter's list.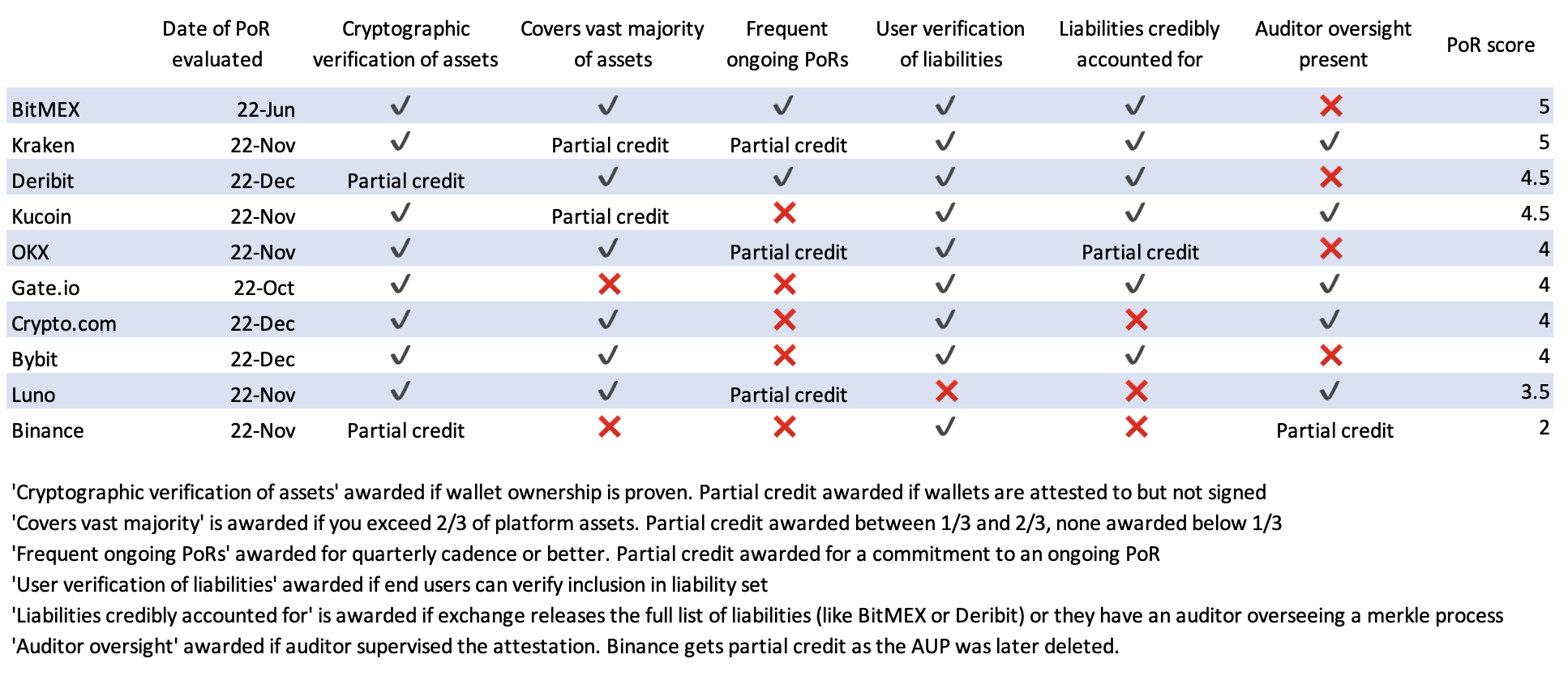 Why did Binance score so low on the crypto PoR list?
While several crypto exchanges' PoR scores were highly regarded, Binance's PoR scored poorly in the rankings. Carter asserts that the exchange's poor PoR score is due to it being incomplete. Only Bitcoin, which accounts for only 16.5% of its customer assets, is covered by Binance's initial PoR.
Nonetheless, in a recent AMA session, Binance CEO Changpeng Zhao (CZ) was asked if Binance would collapse if users withdrew all their funds. CZ answered that it would not and that the exchange is 100% backed. The option of an audit is still in Binance's hands, which may lead to better transparency and allow the exchange to solidify its foothold in the industry.
For example, the second-largest cryptocurrency exchange in the world by trading volume, OKX, has given access to its second PoR on its website. The platform has taken the initiative to be more transparent by publishing its PoR on the 22nd of every month. The move might lead to more trust being built with clients and investors.