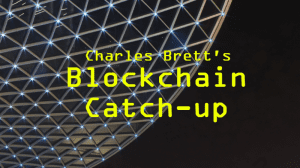 This is Charles Brett's start-of-the-week Enterprise Times 'blockchain catch-up' Week 24. Necessarily it is idiosyncratic and selective.
It is not intended to be comprehensive but does seek to highlight 'Quick Takes' on specific developments as well interesting pieces to read, a listing of some (not all) announcements/press releases and pointers to upcoming events.
Quick Takes – Charles Brett's Blockchain Catch-up Week 24
The UK economy could be transformed by a central bank digital currency
Josh Ryan-Collins is head of finance and macroeconomics at University College London's Institute for Innovation and Public Purpose. In the Guardian, he has written about how the Bank of England has launched a consultation (see below) on a UK central bank digital currency (CBDC) and the regulation of private digital currencies. In this, the Bank of England joins other central banks around the world which are investigating digital currencies – with the Chinese already trialling the concept.
Quick Take: This is a useful summary of the broader CBDC potential. It also raises the two main reservations, that conventional banking might be disintermediated and privacy. On the former, it is arguable that a CBDC initiative that broke up the current banking system could be a positive outcome (is big banking already too big?). The privacy fear is altogether more tangible – that the state via a CBDC might know everything a CBDC user makes and spends – although this would be one way to minimise tax evasion – and make consumption taxation easier.
Bank of England discussion paper: "New forms of digital money"
This Discussion Paper sets out the Bank of England's (BoE) emerging thoughts on new forms of digital money. The discussion paper consider both systemic stablecoins and a UK CBDC. It also builds on the BoE's previous Discussion Paper on CBDC published in March 2020 and the Financial Policy Committee's expectations for stablecoins set out in the December 2019 Financial Stability Report.
As the BoE says: "The Bank has not yet made a decision on its detailed regulatory approach to stablecoins, or on whether to introduce a CBDC in the UK. These questions will need to be considered in consultation with Her Majesty's Government."
Quick Take: The discussion paper is long and with illustrative scenarios as well as explained examples. The BoE's self-proclaimed purpose is to broaden the general debate as well as to solicit views. For those wishing to contribute, the BoE asks for contributions here.
7 pieces to read – Charles Brett's Blockchain Catch-up Week 24
Selected announcements/press releases/opinions – Charles Brett's Blockchain Catch-up Week 24
Selected upcoming events