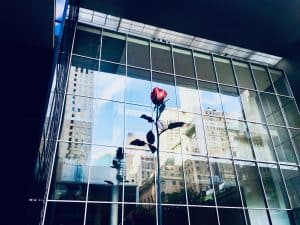 Digital asset firm Binance recently announced the launch of its NFT Innovative Creators Program.
According to a blog post from the crypto exchange, Binance NFT "puts creators first."
Binance noted that you may get your artworks "minted" and featured on their Binance NFT marketplace during their first month of launch. Binance explained that we can think of it "like a feature exhibition at a world-class gallery—but with your work at the center." The Binance team also mentioned that they're "putting the spotlight on creators from around the world (creators like you)."
The Binance team added:
"Share your talent with the world. Monetize your artwork with Binance NFT. Getting featured on Binance NFT comes with some exclusive perks. Not only will your work be shared with one of the largest communities in crypto, but you'll also receive 99% of the proceeds from your first NFT sale, as well as a 1% royalty payment on all subsequent NFT trades—for life."
Here's what participants can expect to receive as a Binance NFT Innovative Creator:
Get your collectibles "featured on Binance NFT during our first month of launch." With limited spots available, "your collectibles will be accessible for more NFT enthusiasts and collectors, as well as one of the world's largest crypto communities."
Get "paid for your work." Creators "receive 99% of proceeds from their first NFT sale, as well as 1% royalty payment from subsequent NFT trades."
Your collectibles "have the chance to be featured on Binance's official social media channels, which reaches an audience of millions."
In order to apply for the Binance NFT Innovative Creators Program, you need to send them an email at [email protected] with "Application for Binance NFT Innovative Creators Program" as the subject line.
Applicants will have to send an email with a self-introduction, their social media accounts, and briefly describe any prior experience they might have working with NFTs. (Note: for more details on how to apply, check here.)
Binance confirmed that they will be processing incoming applications on "a rolling basis." Successful applicants "will be contacted by the Binance team directly."
As noted by Binance, applications are open "until May 31 at 11:59PM UTC."
NFTs or non-fungible tokens have becoming extremely popular in the crypto and blockchain space. Many analysts have argued that they're a great way to introduce and onboard new people into the nascent digital assets space.
While they're rising in popularity, they've also presented complex legal challenges. A recent NFT lawsuit has alleged that the sale of NBA Top Shot Moments by Dapper Labs has violated securities laws.