Nominex is a cryptocurrency exchange with various services like trading, affiliate program, educational courses, and DeFi services. It focuses on helping people start their cryptocurrency trading life with the least barriers possible. The cryptocurrency exchange offers buying assets with fiat money. The combination of services has resulted in considerable growth for Nominex and can put it among the best exchanges in the world.
What is Nominex?
There are numerous cryptocurrency exchanges in the market. Each of them provides a list of services for those who want to benefit from the volatilities of the market or earn from their holdings by staking their assets. Centralized exchanges and decentralized exchanges have been in the market for a while.
But there are a few of them that offer the best of both worlds. Nominex is one of them that has numerous offerings for crypto enthusiasts.
This cryptocurrency exchange has many services that can attract various groups of traders. The common trading option is for those who want to earn by trading assets or buying cryptocurrencies with fiat money.
There are earning programs in this exchange that let you benefit from the DeFi opportunities. Besides, Nominex focuses on the learning aspect for its traders and has a complete set of courses. These courses let you get familiar with different aspects of the market and trade with more knowledge.

Nominex Services
As mentioned above, Nominex has a complete set of services available for crypto traders. Next to the exchange, there are many options available for those who want to start their journey in this innovative market. You can read more about all of the services below.
Exchange
The exchange service in the Nominex platform lets you trade crypto assets with low fees. There are more than 60 trading pairs available in the exchange with 0.01% to absolute 0 fees. The platform offers various sub-services in this section that let you enjoy the trading opportunities more.
Referral Program
Nominex has a comprehensive referral program that lets traders earn more by inviting their friends and colleagues. The platform calls affiliate members partners and encourages them to earn more by inviting new users. It has unlimited affiliate levels available for users.
It means you can invite as many people as possible and increase your revenue or affiliate earnings with no limits. The affiliate structure is binary and multiplies by 2 in each level of affiliate invitations.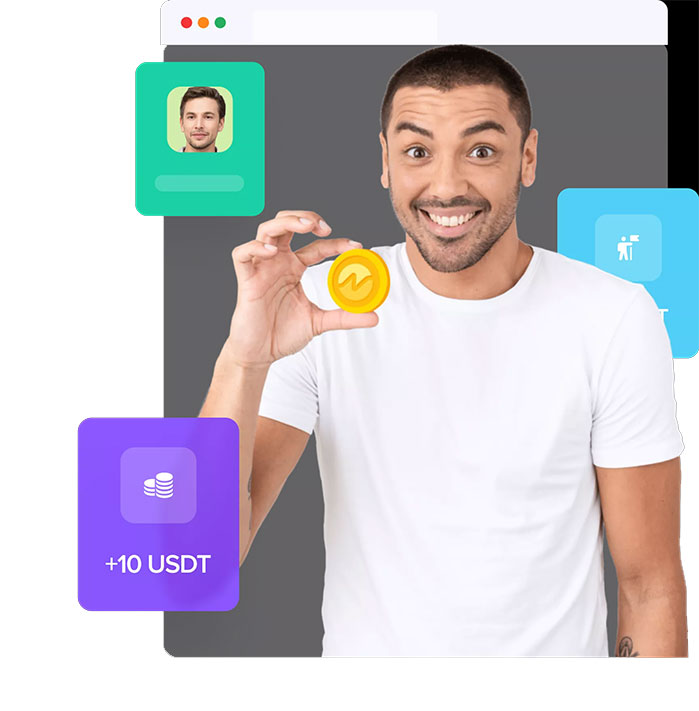 The cryptocurrency platform offers an affiliate program for businesses, too. They can have team rewards based on the number of their team members and benefit from the business places in the referral program.
There are eight types of affiliate bonuses available on the Nominex platform. This offering increases the chance of earning by inviting new members for other users.
You can become an affiliate partner in this exchange and benefit from the unlimited referral levels. But there are options available for all types of users, from bloggers and webmasters to active users and regular hodlers.
Tournaments
Tournaments in the Nominex exchange offer more earning opportunities and prizes for expert traders. They can compete with each other in trading and earn prizes based on their results.
There are two types of tournaments available on the platform. The real live ones have real prizes for daily trading and results. There is a demo arena available, too, that lets you trade and compete without the risk and worries of losing your money.
Discount Cards

As mentioned above, Nominex tries its best to help traders enjoy their experience on the platform. It provides chances for both active and amateur traders. Those who trade more on the platform can benefit from discount cards to have fewer worries about fees.
There are discount cards available for them that decrease the trading fees on the platform. These cards apply discounts from 5% to 20% on all trading fees for 30 days. The price varies from 30 to 90 USD. Traders can only buy and active only one discount card at a time.
DeFi
The DeFi platform in Nominex is a great offering for those who need more innovative financial services. It has many of the benefits of decentralized financial platforms and lets you earn more from your digital assets. There are various options available for those who want to earn by providing liquidity in the DeFi platform.
Liquidity Pools
Liquidity pools are the fundamental elements in a DeFi platform. Nominex's pools are available in various pairs. NMX-USDT is the primary liquidity pool in the platform that many users choose for liquidity providing.
Nominex has a dashboard for monitoring the DeFi earnings on the platform. You provide liquidity in personal or team farming pools and earn tokens based on their shares.
The My statistics tab in the DeFi platform shows your NMX earnings that come from personal farming and team farmings. For using the DeFi services, you should connect a wallet to the service. Famous wallets like Metamask, Brave, and WalletConnect are supported in the platform.
Personal Farming
Personal farming is for users who want to stake or provide liquidity in pools and earn tokens individually. There are sometimes programs named "farming days" available in Nominex that let you increase the chance of earning by providing liquidity or staking.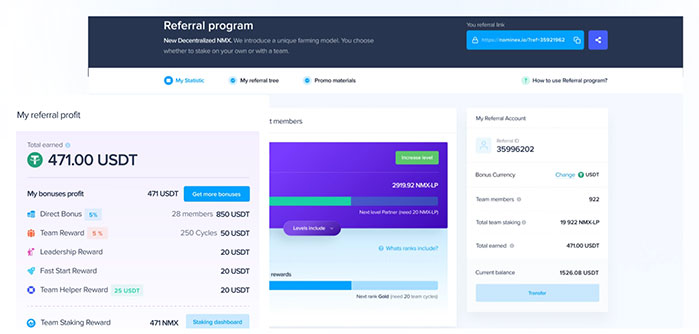 Team Farming
The team farming option in the DeFi section somehow completes the referral program of Nominex. You can earn more by teaming with friends and stake NMX-LP tokens at different levels.
Team farming makes it possible to increase earnings in liquidity pools. Nominex has the first team farming protocol in the market.
NMX the Nominex token
NMX is the native token of the Nominex platform. It has numerous use-cases in the exchange, but the most important benefit comes in the DeFi section.
Users can stake NMX or provide liquidity in the NMX-USDT pool and earn more NMX tokens. The system is based on smart contracts and rewards users based on the amount of provided liquidity.
Conclusion
There are many crypto exchanges in the market today. Some of them are CeFi, and others are DeFi platforms. Nominex has the best of both worlds by providing the opportunity of trading next to DeFi services. The referral program on this platform is a great option for crypto enthusiasts. They can add team members and benefit from discounts or increased farming revenue.
After all, the decentralized mechanism of farming the platform is a good solution for those who want a passive income from their holdings. Nominex can become one of the biggest crypto exchanges because of the various services it offers.