PiixPay to Provide a Stable Crypto-to-EURO Gateway for Binance Clients – Coinspeaker
Place/Date: – July 26th, 2021 at 12:32 pm UTC · 2 min read
Contact: PiixPay, Source: PiixPay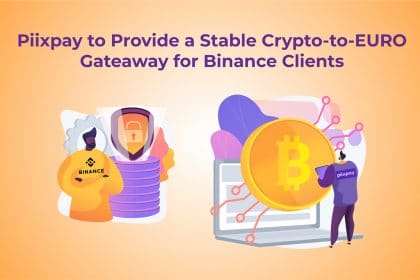 PiixPay, a European regulated crypto payment company, has expressed its readiness to provide a stable and reliable crypto-to-IBAN gateway in the lights of the regulatory crackdown faced by one of Binance's payment providers. The entire situation occurred once Binance European clients received an official notification on temporary EURO deposits suspension.
The PiixPay Team express their support to one of the biggest crypto-related client communities, as well as their desire to minimize the potential inconvenience that could be caused by unfavorable situation development. Although it was emphasized that the EURO withdrawal option is still valid within the Binance ecosystem, PiixPay crypto-to-IBAN cashout solution has to be considered a reliable and indispensable solution for those looking to withdraw EURO instantly on advantageous terms.
The entire process is claimed to be one of the fastest legal options to convert core crypto assets like Bitcoin (BTC), Ethereum (ETH), and Bitcoin Cash (BCH) into EURO, which is seamlessly delivered to the client's private IBAN. All you need is to create your PiixPay account, which takes only a few minutes, and then, once your wallet is connected, enter the IBAN number and the amount of EURO you would like to receive to your IBAN.
With a progressive discount program PiixPay launched in June 2021, advanced crypto enthusiasts and traders will definitely asses the advantage on the commission for the withdrawals of greater amounts.
When reached, Evald-Hannes Kree, PiixPay CEO and Founder, has underlined the importance of providing the community with a stable payout gate:
"With long years of staying in crypto under the belt, we like none understand the importance of the ecosystem sustainability and safety. That is why PiixPay's crypto-to-IBAN gate was originally designed with a greater focus on the customer's safety and seamless withdrawal experience. With its natural versatility, PiixPay withdrawal solution perfectly works for anyone looking for an advantageous and convenient way to convert their cryptos to the fiat."
About PiixPay
PiixPay is a European-regulated crypto company offering instant crypto-to-fiat payment solutions. PiixPay payment service gives access to seamless crypto payouts to the IBAN account of choice. Instafill option enables linking the crypto wallet address with IBAN to automatically convert all chosen crypto-asset incomings to EURO.
Subscribe to our telegram channel. Join